Edenvale High School attended the Ekurhuleni Awards Ceremony on Wednesday the 29th of January where Dr. L Harmer received the award for 3rd best performing school in the district out of 390 schools.
Luke Macke and, a 2019 matriculant of EHS, also attended the awards to receive the trophy for best performing learner in Information Technologies for 2019.
The 2019 matriculants performed exceptionally well and it is, no doubt, thanks to the superb staff who teach at Edenvale High. EHS reached new heights this year as eleven teachers received district awards in their subject. The teachers are seen holding their certificates and trophies.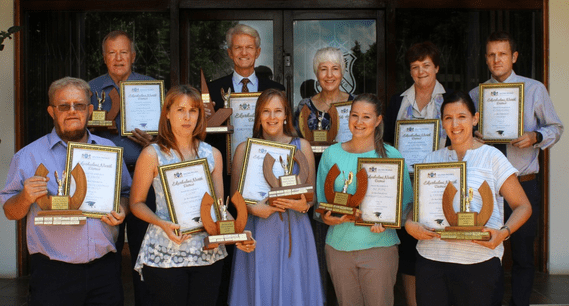 Back Row from Left: Mr I Johnston (EGD), Dr L Harmer, Mrs A Smit (Physical Science), Mrs I Van Der Ryst (Mathematical Literacy), Mr P Swanepoel (History)
Front Row from Left: Mr H Smith (EGD), Mrs C Lunt (Consumer Studies), Ms C McLellan (History), Ms M Aling (Mathematical Literacy), Mrs G Van Rooyen (Business Studies)